4 Must-haves of underground carpark or basement entry garage doors
Tips to help you select the ideal entry door
The average person may not even think twice about, or have much to do with, the doors allowing them access in to their underground car parking spot.
And whether the door is below their apartment or office block, that's how it should be: easy for the user.
By contrast, the decision makers responsible for choosing the right door for the underground carpark (predominantly the architect or builder), must ensure that safety, ease of use, and aesthetics are all taken care of right at the very start of the building and planning process.
It's a big responsibility.
Here are the four must-haves to bear in mind when choosing the ideal underground carpark entry door.

The pros and cons of your garage door options
Firstly, let's consider what end result is needed: is it security mesh, slatted, bar panels, louvre mesh, louvred, roller shutters, or sectional garage doors? And firstly, what does all this mean?
Mesh sectional garage doors
Where you need free airflow through your underground garage area, a mesh style garage door is ideal. Mesh security doors and slatted garage doors vary, but can provide various ventilation levels while providing a sleek modern look to your basement carpark area.
Pros: Ventilation all year round and easy to see oncoming traffic.
Cons: Wind, pests and dust are also able to enter. Anybody walking by will be able to look inside - possibly a security issue.


Bar panel garage doors
Using rods through a door frame helps to provide even more ventilation than a mesh-style door.
Pros: Good ventilation
Cons: How close together are the rods? Can a person fit through them? This is potentially a security issue. Wind, dust, and pests are also able to get in.


Louvre mesh sectional aluminium garage doors
Louvre mesh sectional doors provide airflow whilst still limiting the ability to see in through the door.
Pros: Ventilation
Cons: Wind and dust, and possibly pests are able to enter.



Louvred garage doors
The louvre sectional door is extremely strong and secure with a modern look. It provides privacy while still allowing some ventilation through the site.


Commercial roller shutters
Maximum security doors constructed from interlocking aluminium slats with an integrated bottom rail. Available with full or part perforation.
Pros: Security and privacy.


Sectional or folding garage doors
The ultimate sectional door offers most of the pros mentioned above, including options to include mesh panels, full block out, or insulated panels.
Pros: secure, able to match the panels to the building for a smart, clean look. Folds up into a compact unit above the opening, which means you're also able to install lighting above the door on the inside since the overhead space is not compromised.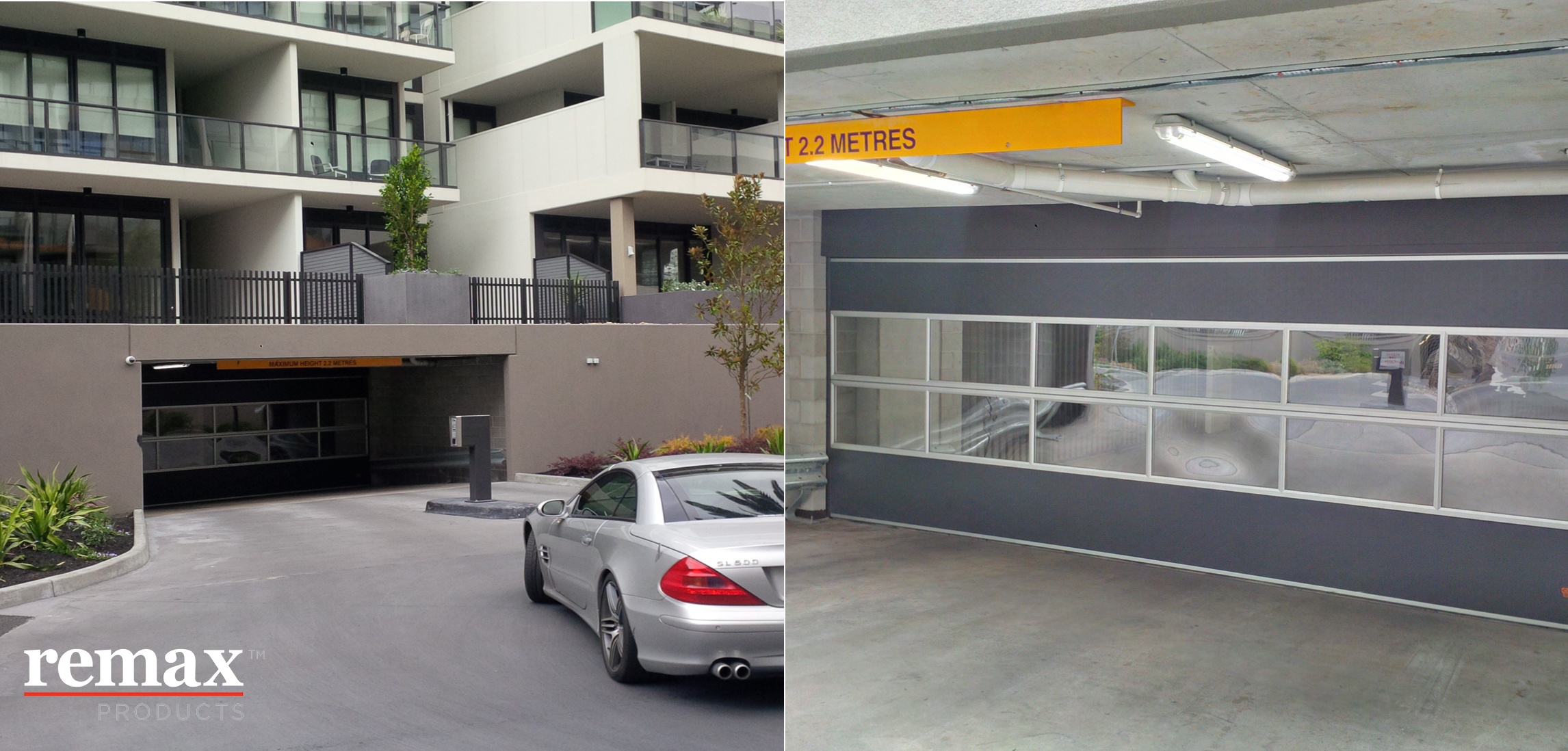 The essential elements of a residential or commercial garage door
Essentially, garage doors have to tick off four important issues to be considered for the role of a basement entry garage door for use in commercial and high rise residential applications.
1) Security
What type of access is on offer, touchless or remote? Consider how your secure car park doors will affect traffic. Ideally, you want secure doors that function smoothly and efficiently for traffic to get in and out as easily as possible and for potential apartment and office residents to be assured that their vehicles are parked in a secure environment around the clock.
2) Reliable round-the-clock access
With remote activation devices, sectional doors will allow constant traffic, whilst quickly closing upon egress, maintaining traffic flow as well as security for the driver. Whether that be day or night.
3) Aesthetics
Can a mesh door offer you top end design? Can the doors be made bespoke to your build? The compact sectional door for example offers many options, whether you need ventilation panels, coloured, insulated panels or glass.
For some architects or builders, this aspect may be crucial.
4) Noise
Ergh! The squeaky noise of a roller shutter opening and closing all day long can be torturous... especially for the residents living or working right above the entrance.
The compact sectional door is a low maintenance, quiet alternative due to the fact that it has no balancing springs and the panels pack up together in a small unit above the doorway.
Talk to us about your ideal residential or commercial garage door
It is precisely for these considerations that door selection is critical. At Remax we'ree in the business of managing these considerations, through doorway solutions you can trust. So talk to us about your door control situation - you'll be surprised with what else we might have up our sleeves!
For more about Remax Doors, contact us online or call us on 1800 010 221.