What Attributes Does a Great Loading Dock Door Have?
There are some great options on the market for loading dock doors; and there are some vital elements which separate the great dock doors from the rest. Some of the factors include the insulation value, seals, smart integration, low maintenance design and more.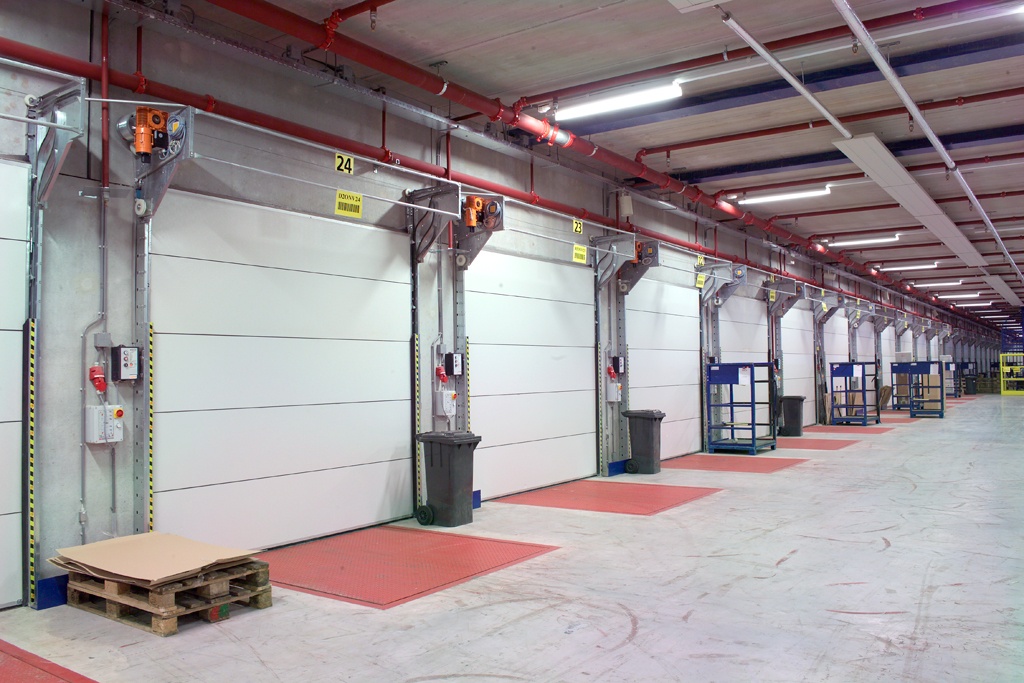 They Have a Good Insulation Value

Incredibly important in cold storage, cool room areas where goods are passing from the facility to the transport vehicle. Reducing the possibility for goods to drop in temperature is vital, especially when goods are handled numerous times throughout the cold chain journey.



They Have Smart Integration

Including smart control logic for integration to dock seals, dock levellers and traffic lights. A loading dock door which offers all the necessary integration, is a huge help. Many transport and logistics companies do not want to have to close down their exit and entry areas for too long, certainly not for longer than is necessary. Consider a product such as the Compact Sectional Door which can manage it all in one controller.



They Have a Good Seal when Closed.

A good seal on Loading dock doors are an important way to protect your structure, trucks and shipments. A seal provides a tight closure between the truck and your loading dock. This keeps temperatures consistent and keeps insects, dampness and other things out of your building. If you have a particularly delicate load, this can be vital. The Compact Sectional Door has impressive air-tightness, not only does it cut down on the amount of internal space required but also boasts an air-tightness.



The Dock Doors are Low Maintenance ( Yes, it is possible)

It is no secret that there are many Warehouse Managers around the country pulling their hair out over the cost of maintenance and repair (not to mention downtime) of their access doors, particularly Loading Dock Doors.

Loading Dock Doors are certainly an investment, no matter what product you choose, but beware of choosing the cheapest product on the market, for the sake of your bank account right now, since you could be stung later on with high maintenance requirements, the freight price and delays associated with overseas parts and a supplier who lacks the aftermarket service requirements that you are after.

Your costs for the upkeep of cheaper dock doors could outweight those of a slightly more costly, but reliable, alternatives. For example, the Compact Sectional Door has no torsion springs which are common in standard sectional doors and would require regular replacement.



They Have Minimal Impact on interior Lighting / Loading Equipment

Bulky and cumbersome sectional doors which require hefty clearances above the doorway (whether they slide up vertically onto rails directly above the door or onto rails at 90 degrees to the door) can impact significantly on equipment which needs to be near the doorway for loading / unloading reasons. Such as lighting / loading equipment. A loading dock door with minimal overhead clearances, such the Compact Sectional Door, can be incredibly convenient to serve both the purpose of the dock door but also have minimal impact on other requirements needed by your team.




Smart, minimalist appearance

Especially for sites which are open to the public, but for any facility which look for a clean, minimal and smart access area. The Compact Door comes in a variety of RAL colours so it can be matched very closely to the colour of our building or coordinated to accent colours in the brand logo for example.



High clarity visibility without compromising thermal properties

Windows are often a requirement for loading dock doors to ensure that a collision is avoided by traffic coming out of the property vs traffic on the otherside. And for pedestrians within the building to be able to see when a truck is waiting to be unloaded etc.
The downside is that windows can be a weak insulation point, unless you have the option of choosing a double-glazed / insulated window, as with the Compact Sectional Door for example.



Fall safe; broken cable safety devices
Sectional Doors are operated by the raising and lowering of cables affixed to the bottom of the door. Should one or both of the cables break, the door will come crashing down. A cable break system will prevent the doors from coming down should either cable break. Safety breaks are fitted as standard on all new door installations, and can be easily fitted to older doors that don't have them.
If you would like recommendations on a suitable product for your site - please contact the Remax Team today on 03 5814 3555 or email us on info@remaxdoors.com