Bespoke Garage Door Solutions for Architectural Spaces
Finding door solutions for those applications with limited headroom and minimal space can be tricky. As property developers building bigger projects, space is at an absolute premium, and space-saving doors can play instrumental roles in ensuring both the functionality and space efficiency of building access.
However, when looking for external doors that are smart, aesthetic, and will match to the façade of your building, you're typically faced with a range of sectional doors that include tilt-up counterweight doors, overhead doors, or roller doors.
Overhead sectional doors, roller doors and tilting doors can pose problems with their big footprints, and clumsy operational design, especially when limited by space constraints. With these types of access doors, you're often-times limited by the space they require when in operating or open position.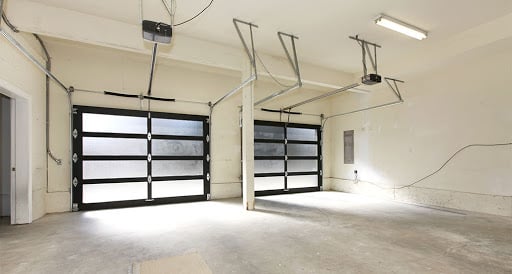 Overhead sectional doors operate via rollers within a set of tracks, with the rails travelling up the door opening and securing to the roof structure. When opened, the folding door moves up the tracks towards the ceiling, requiring the full length and width of the door to be stored parallel with the ceiling.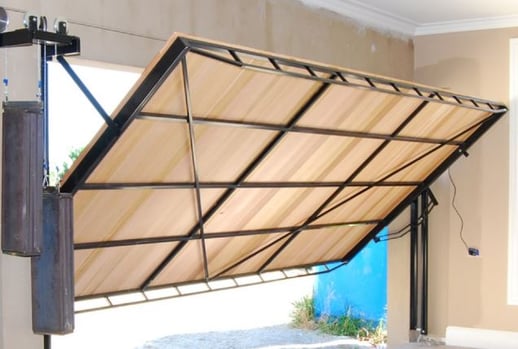 A tilt-up counterweight door is a one-piece panel door, operating by tilting the entire rigid panel in line with the ceiling. As these doors commence operation by swinging the rigid panel outward at the bottom, vehicles parked in front of the door must be kept a certain distance back from the door panel, to avoid obstructing the door in operation.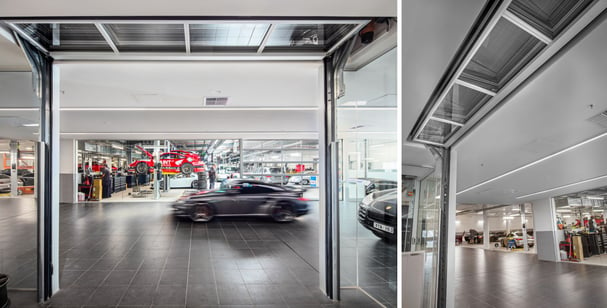 The premium alternative for a space-saving door solution is the Compact Sectional door. Operating also by a track/roller system, each segregated door panel stacks and folds as it rises, utilising a clever concertina action to store the panels into a compact space in line with the ceiling. With each panel being just 610mm high, and each panel storing neatly in line with the one before it, the Compact sectional door is the ultimate space-saving door.
With the smaller headroom requirements and no overhead support rails, the Compact Sectional Door is perfect for those applications where space is limited. See below some applications we've worked on, to help clients where space efficiency was a must.
Nott Street Apartment building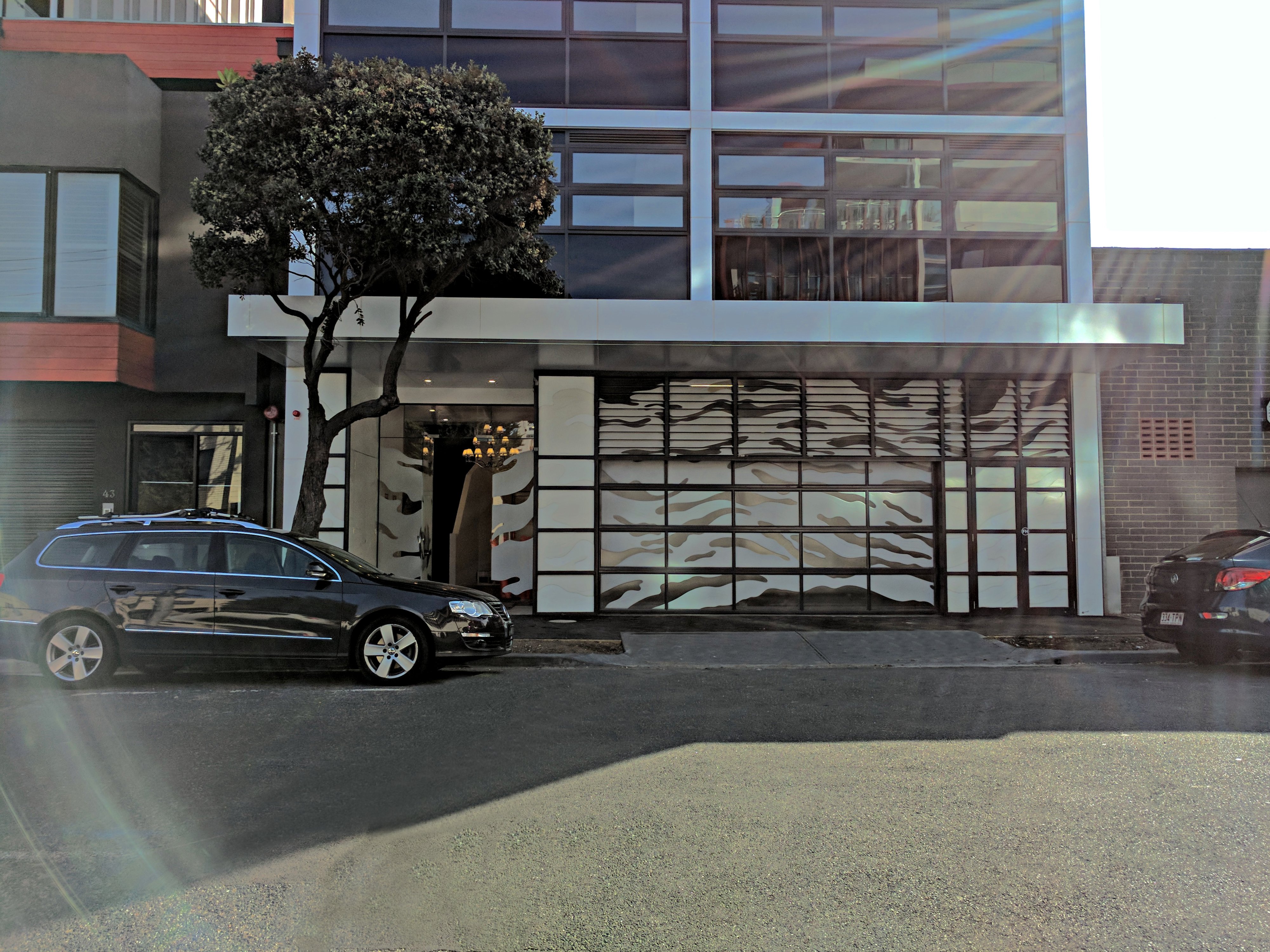 The Nott Street Apartment complex required a Sectional access door, to allow remote access and egress for all Apartment residents. Immediately inside the opening was a car stacker, an automated lifting system used to move, park and stack cars on multiple levels.
On the large 5600mmW x 2250mmH opening, the Compact Sectional Door was mounted flush with the opening header, requiring only 410mm head clearance. Situated in Port Melbourne, aesthetics were as important as functionality and space efficiency, and the door was installed with a stunning 3D-printed glass finish.
Millers Junction Shopfront Building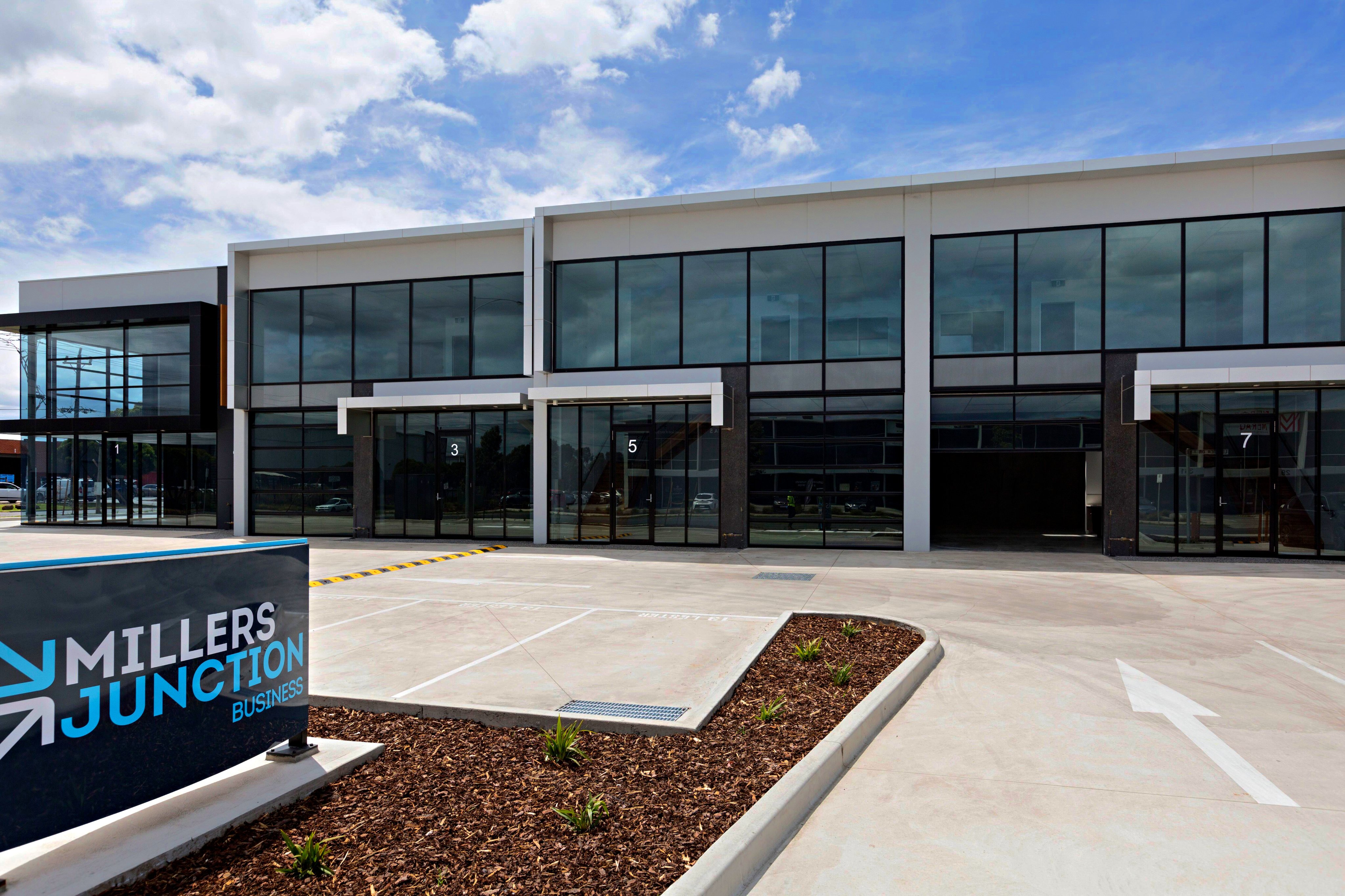 Seventeen Compact Sectional doors were installed in the property development at Millers Junction Precinct. The development was essentially a large Business Park of 'factoryettes', or multi-warehouses.
For every individual warehouse, a sectional folding door was required for shopfront access, that didn't impede on the limited warehouse floor space.
Sandy Hill Apartments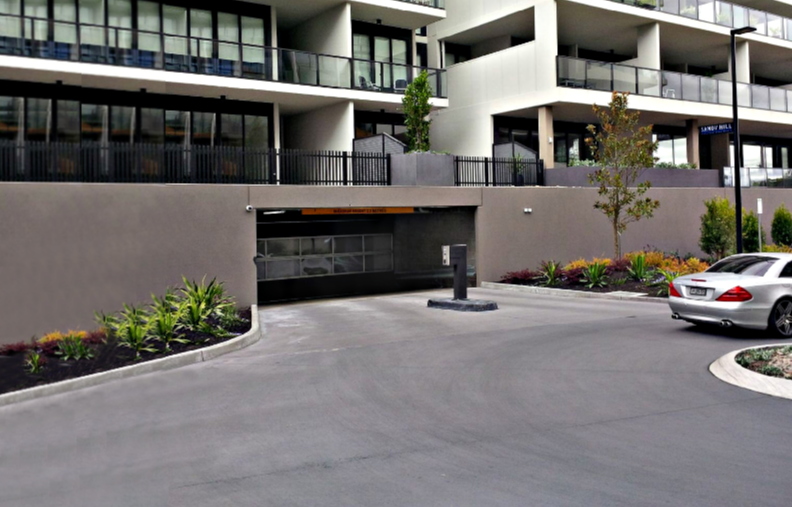 A large Compact Sectional Door was installed on an underground carpark entry, at Sandy Hill Apartments in Sandringham, Victoria. Spanning an opening of dimensions 6400mmW x 2300mmH, the sectional folding door was installed on the ramp leading to the underground carpark. Notorious for their limited space and tight openings, functional, security underground carpark doors can be difficult to source! The Compact Sectional door installed on this opening required only 450mm of headroom, without restricting traffic.
Do you have an application that calls for space-saving doors for tight spaces? Contact our friendly team today, to discuss whether the Compact Sectional Door might be right for you too!
If you would like to contact us, call today on 1800 010 221 or send an email to info@remaxdoors.com
---
*All content provided on this blog is for informational purposes only. The owner of this blog makes no representations as to the accuracy or completeness of any information on this site or found by following any link on this site.
---
What can you do to increase profitability and efficiency? Check out our free resources comparing a Compact Sectional Door to a standard roller shutter.
FREE RESOURCES: