Rapid door improves warehouse temperature control
World-class local factory finds efficiency improved
From their factory in Dandenong South, Remax client Advanced Polymer Technology (APT) have supplied artificial turf for hockey fields for the last five Olympic games. Theirs is a great Australian manufacturing success story – yet recently they had run into issues with their factory roller door.
Their artificial turf manufacturing process relies on consistent warm temperatures in the factory, to allow for proper cooling and curing time. The turf is made in rolls, much like carpet although much stronger and tougher. It is pulled slowly through a large oven (think a giant pizza oven) as latex glue is applied. Once the turf rolls are out of the oven, they are put aside for the glue to cure slowly in warm temperatures.
APT's traditional roller door was causing major headaches as they tried to maintain consistent temperatures in the warehouse.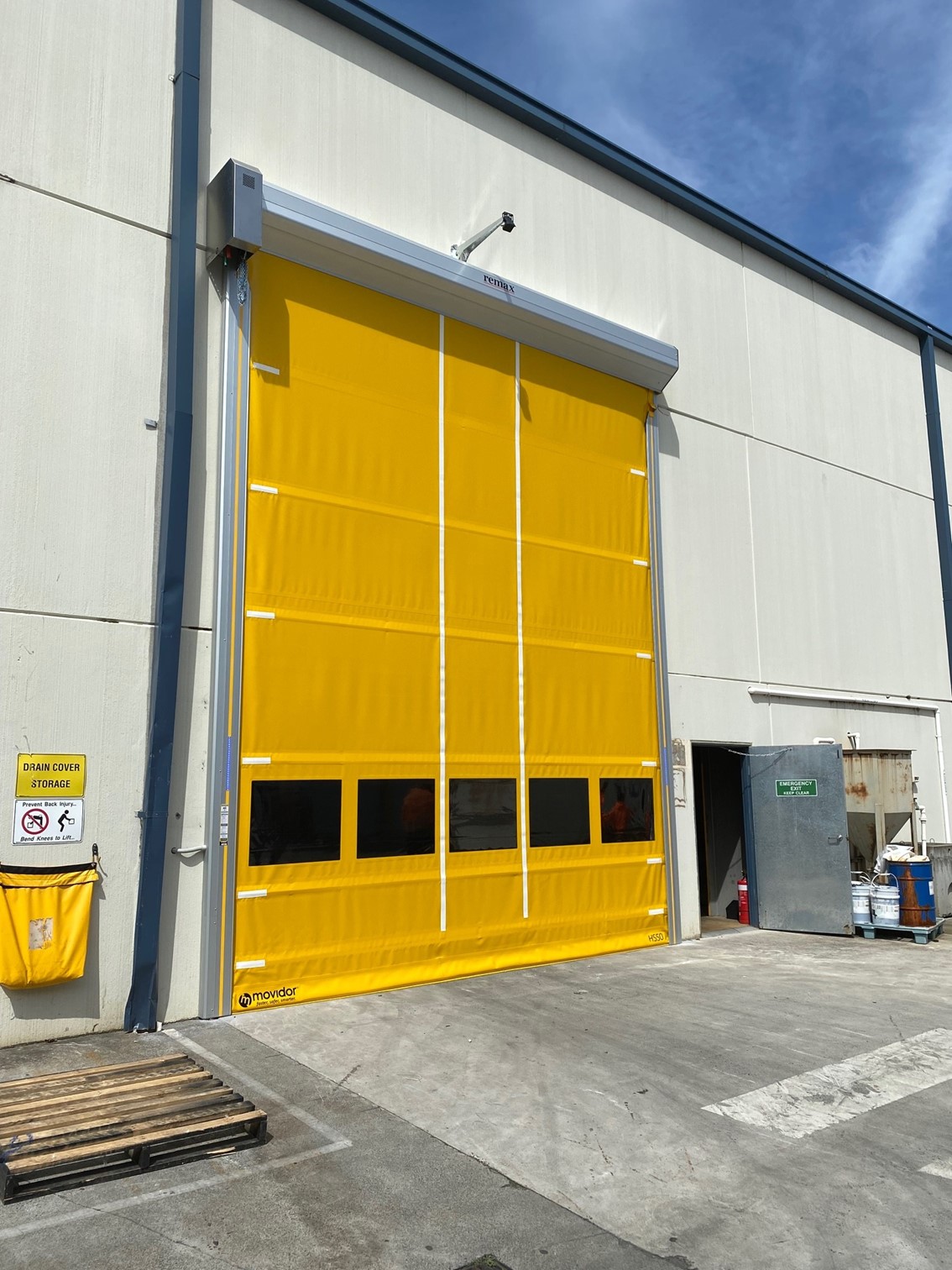 Old roller door causes safety and efficiency problems
The APT warehouse's 5m x 5m opening was used as a common thoroughfare for forklifts, cycling up to 50 or 60 times a day. This meant the door could not simply be kept closed all day, allowing cold air to whistle through the factory every time the door was opened.
To make matters worse, this old roller door was not automated, and took a full minute or two to open and close each time. The forklift driver had to leave his vehicle to hit the open button, and then wait while the door laboriously cranked open!
On top of this, there were none of today's safety features installed in the traditional old roller door. If a person or object were unfortunate enough to be hit as the door closed half way, it wouldn't shut off but continue to close.
Clearly a new style of door was needed to improve efficiency in APT's warehouse factory. They spoke to Remax Doors about installing a modern new high speed door in their facility.
Warehouse efficiency improved thanks to rapid door installation
The Remax team supplied and installed a Movidor HS50 model rapid door. With its fast opening speed of up to 1.5 meters per second, the HS50 is proving to be the ideal solution for maintaining warehouse temperature.
Safety and maintenance concerns were addressed too. An LED traffic light system helped to improve safety and visibility through the doorway, preventing accidents and collisions for both forklift drivers and pedestrians.
The HS50's soft curtain bottom edge helps it to withstand knocks, and the crash relocation system means the door curtain realigns itself into the guides if (when!) it's knocked by a forklift.
With the rapid door installed by Remax, APT's David Bentley said already there's been a noticeable effect on ambient temperatures in the factory.
"We reckon we'll see the biggest benefit in winter, when the colder temperatures have been difficult to keep out of the factory", David said. "But even though it's still summer, we already have data that shows we can now run the machines faster."
This ultimately increases productivity and significantly reduces the overall cost of production for APT.
"With the fast opening times of the rapid door, we've found that drying times for the turf are more consistent, and curing is more predictable," he said.


Find out more about rapid doors for your facility
Remax Doors can help with the ideal door for your factory. For more information, contact us online or speak with the Remax Doors team now on 1800 010 221.