Rapid Roller Doors for Warehouses
Why we're the door of choice across Australia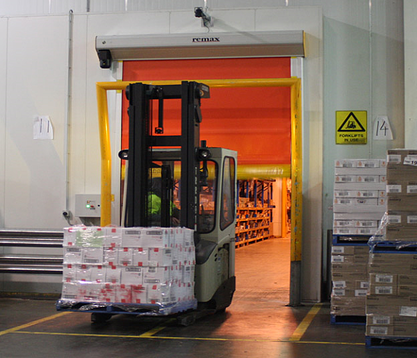 When Facility Managers and Maintenance Managers think about quality Rapid Doors, they think Remax. There are three main attributes that make Remax rapid roller doors the door of choice for warehouses across Australia:
Speed
Seal
Resilience
Australian Made
With these three qualities, rapid roller doors are perfect for high traffic doorways that need to consistently keep a tight seal when segmenting the warehouse. In this blog we will tell you everything you need to know about rapid roller doors.
Selecting The Ideal Rapid Roller Door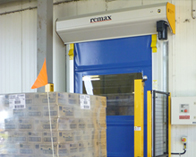 When choosing your door it's important to note the maximum size necessary for your doorway. A door larger than your required maximum size creates a waste of energy in lifting it, a waste of energy lost through the doorway when open, and finally a waste of energy through the decreased insulation a door has compared to a wall. Thankfully most rapid roller doors can be customised to match your doorway size.
Once you have decided your door size, choosing between doors comes down to the benefits each door will offer you. While some doors may take a much higher initial investment their reliability and quality may save you money in the long run, don't forget to factor in warranties and the environments you are subjecting the doors to.
Choosing the wrong door is an expensive mistake to make. For example, if you choose an industrial roller shutter (designed to be opened a maximum of 5-8 times a day) for a high traffic zone you will face increased maintenance costs because of wear, fatigue and stretching of the metal part; not to mention the slow speeds associated with the heavier duty door. You need to make sure your selection matches all your criteria, including your costs.
What Do Rapid Roller Doors Cost?
When calculating the total cost of installing rapid roller doors there are 3 elements you need to consider:
Initial costs: This is the cost of installation and of the door itself. This can range anywhere between $11,000 - $18,000 depending on size and specification.
Maintenance costs: These are the costs incurred through wear and breakdown. It is important to choose a door that is robust and will be able to withstand sustained high use operation and even accidental impact, otherwise your maintenance costs will be high.
You also need to ensure the design of the door avoids over-usage of dynamic parts. For example, a door that can operate without cables and springs will attract much lower ongoing maintenance and service costs than one that relies on those parts.
Safety assurance costs: This is the cost of training your staff to operate and maintain the door in a safe manner. It can involve training, visual or audible warnings of door activity and assurance of fail-safe protection in case of power, brake or cable failure.

By combining the above costs you can work out how much you will need to spend on your new door over its period of use. A good rapid roller door will save you on maintenance costs and safety assurance by being well designed and made from quality parts.
A good rapid door will also encourage quick and safe traffic flow, speeding up your processes while also making it safer for staff. It can also make savings through its insulation and speed, lowering temperature control costs of your facility and time for possible contamination.
Other Considerations When Choosing Doors
Insulation: If you are using it as a portal between two temperature zones will it save you the money you need? Insulation will save on your temperature control efforts.
Reliability: Will the door stand up to impact? It is important the door is robust and reliable. Some doors even come with self-repairing features.
Speed: Rapid doors are obviously built with speed in mind so it is crucial that your door is quick. Although it is important to note that speed is irrelevant if your door breaks down easily or has a loose seal.
Seal: Your rapid roller door should have a tight seal so that when it is closed there is minimal air flow between the two segregated zones.
Australian Made: no costly downtime waiting for servicing / spares and componentry. Our products withstand Australian Conditions and we assess your site to ensure that current and future needs are taken into consideration and that you have the right product.
Service: After sales service and access to a reliable maintenance team is where the Remax team really rise to the top. We have local service technicians in various states and cities around Australia and because our product is locally made, parts and components are stocked, ready to go.

Benefits of Rapid Roller Doors
The benefits of rapid roller doors are especially impressive when considered in unison. The speed, tight seal, and insulation combine to make rapid roller doors perfect for high traffic doorways. When combined with reliability these benefits make rapid roller doors even better.
Whether you are segregating high traffic warehouse areas for contamination, pest control, sanitation or temperature control the benefits of rapid roller doors are hard to beat. By having minimum open time and a well insulated tight seal, rapid roller doors offer the best segregation of two areas in your warehouse.
Find out more about rapid roller doors
For more information, contact us online or to speak with the Remax Doors team immediately, call us on 1800 010 221.